UPDATE: Voting for the 16th Annual CANstruction Reno People's Choice award has ended.  Congratulations to the People's Choice winner,  We CAN Teach Others How to End Hunger by Kendyl Depoali Middle School.  Other winners from this year's competition include:
Most Cans:  Lending an Arm (or 8) to End Hunger, CustomInk
Structural Ingenuity:  Food Pyramid, Mountain View Montessori Adolescent Community
Best Meal: Apple Pi, Northern Nevada Math Club, Inc.
Best Use of Labels: Agent H, Proctor R. Hug High School
Best Original Design: We CAN Teach Others How to End Hunger, Kendyl Depoali Middle School
---
The 16th Annual CANstruction Reno Design & Build Competition, benefiting the Food Bank of Northern Nevada is here!  This year, 12 teams will use more than 27,000 cans to masterfully create canned food structures that will leave you wondering "HOW did they do that?!"  
One very important and highly sought award will be up to YOU – the People's Choice Award will be presented to the team with the most votes cast during the week-long voting campaign.
Structures will be up for viewing at Meadowood Mall through Sunday, March 10. Viewers can vote for their favorite sculpture at the Guest Services desk during regular hours Wednesday-Sunday. Online voting opens at 8am on Wednesday and closes at 6pm Monday, March 11. Every vote costs $1, with all proceeds from voting benefiting the Food Bank of Northern Nevada.
Team 1: CustomInk | Lending an arm (or 8) to end hunger
Octopuses are widely considered to be the most intelligent of all invertebrates. They have three hearts and eight arms (they are not called tentacles). Each arm has a mind of its own and they work as a team. Rather than swimming, octopuses often walk along the seafloor. This playful octopus will lend its arms to fight hunger in our community.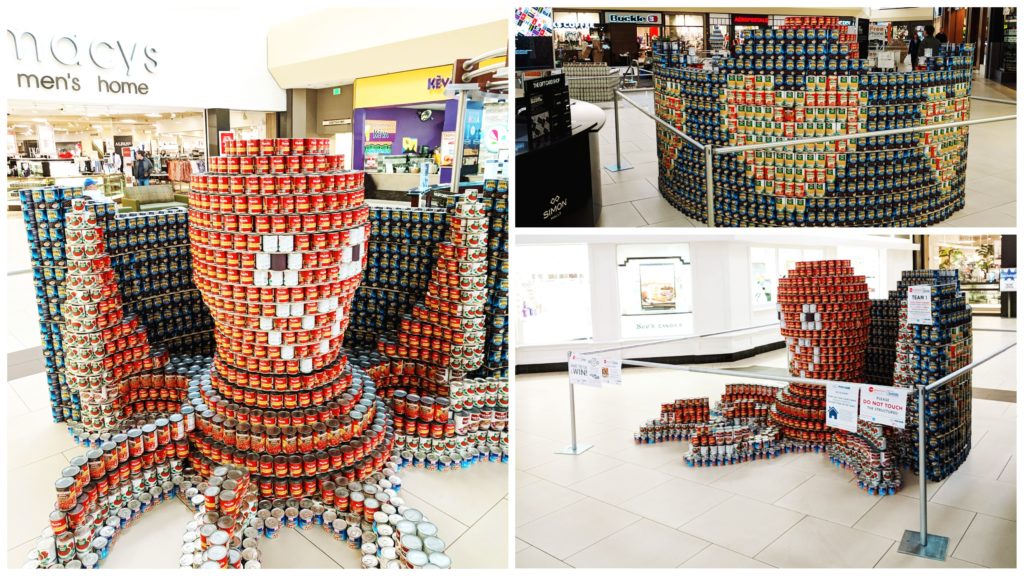 Team 2: Depoali Middle School | We CAN Teach Others How to End Hunger 
An apple a day keeps the hunger away. It's SPAMtastic! Kendyl Depoali Middle School is giving up apples for cans and dollars in their lesson which is all about how $1 = 3 meals. Depoali has been educating students for a decade now and with that experience, we CAN teach others how to end hunger. The students, with a little help from the staff and Max, created a classroom using 4,077 cans to show that students not only learn through books, but in helping the community as well. Together we CAN help to end hunger!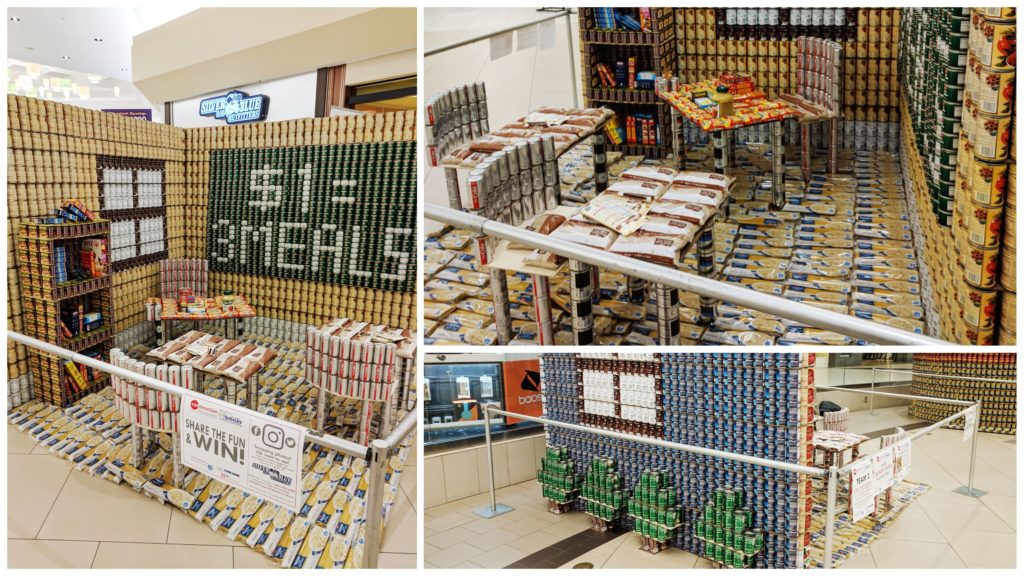 Team 3: Harrah's Reno | Abracadabra!
With our trusty top hat and little bunny friend, we're ready to help Make Hunger Disappear.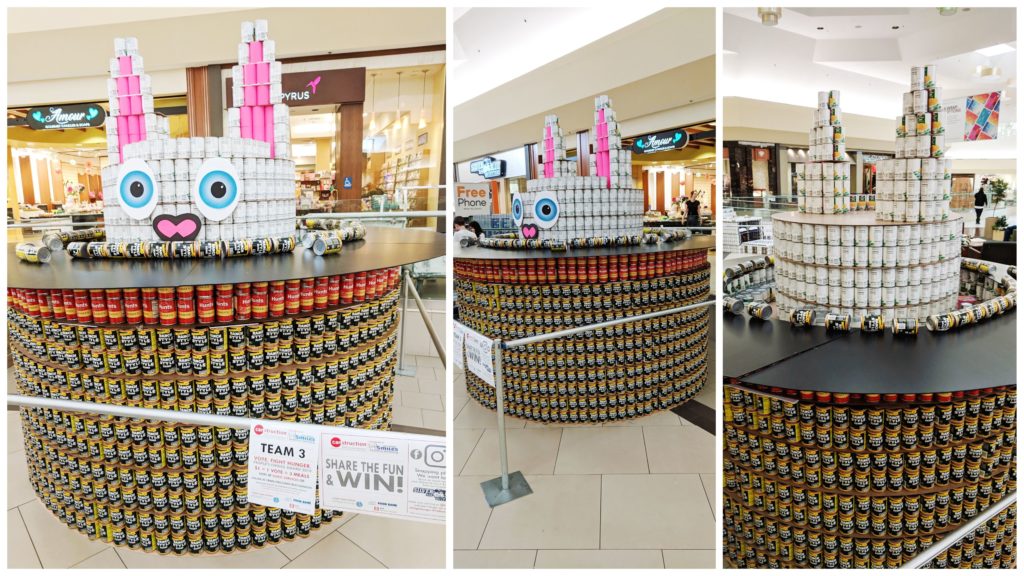 Team 4: Lumos/CORE/Paul Cavin Architect | Beat Hunger with The Pack
Our team has created a structure that not only helps raise awareness of hunger in our community, but also cheers on the Nevada Wolf Pack Basketball team during their amazing season. Our two structures represent the classic University of Nevada, Reno "N" logo and a three-dimensional basketball (while not to regulation). Our team invites spectators to Beat Hunger with The Pack!
The WinCo Foods Tuna Cans were chosen for their colors, close to Silver & Blue. The Chili Bean Pinto cans are also an important form of protein and the orange-ish color works well for the basketball.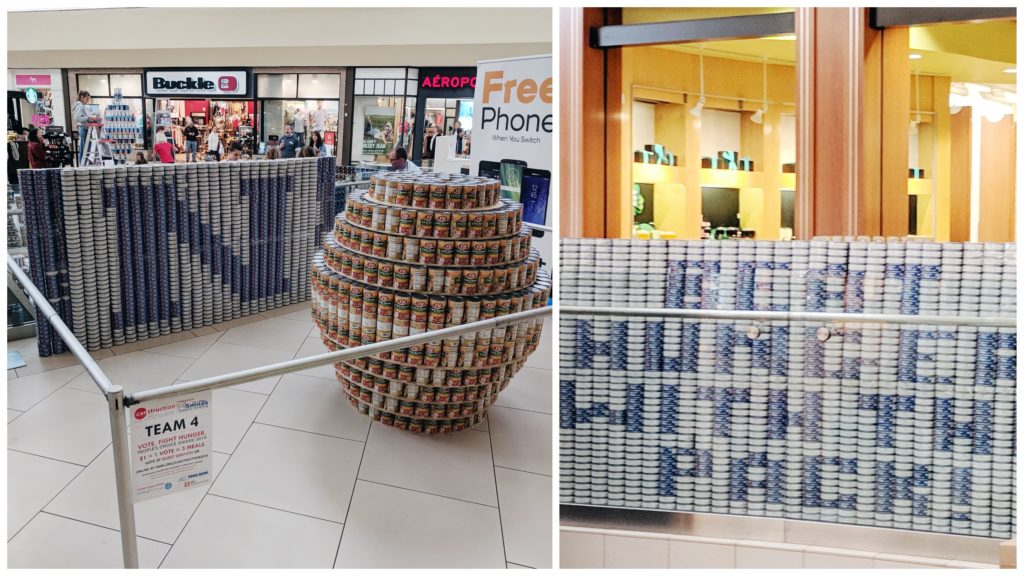 Team 5: Pack 46, Troop 46 & MBA Architecture | Akela's and Scouts Unite to Fight Hunger
We have chosen to display the age-old symbols of the Cub and Scouts of America. The wolf emblem, created here using Stagg Chili, Great Northern Beans, and Ranch Style Brand Beans, was initially created in 1916 in the United Kingdom for the Wolf Cub program. Baden-Powell, the founder of the Boy Scouts, used his good friend, Rudyard Kipling's Jungle Book universe as inspiration and motivation for young scouts. Akela is a title borrowed from the Jungle Book to denote any wise leader of Cubs and can be the den leader, Cub Master, teacher, or parent. The Wolf Scout program changed over the years into the Cub Scout program of today where young boys and girls are given the building blocks needed to be successful young adults and Scouts. While the ranks of the Cub Scouts has expanded to include Lion, Tiger, Wolf, Bear, and Webelos (We'll Be Loyal Scouts), the wolf emblem is still face th of the Cub program.
Displayed below the wolf is the Fluer de Lis, the symbol of the Scout's of America, created using Bush's Best Beans. A large part of the Scouts mission is to "do a good turn" by assisting and leading in service projects that benefit the community.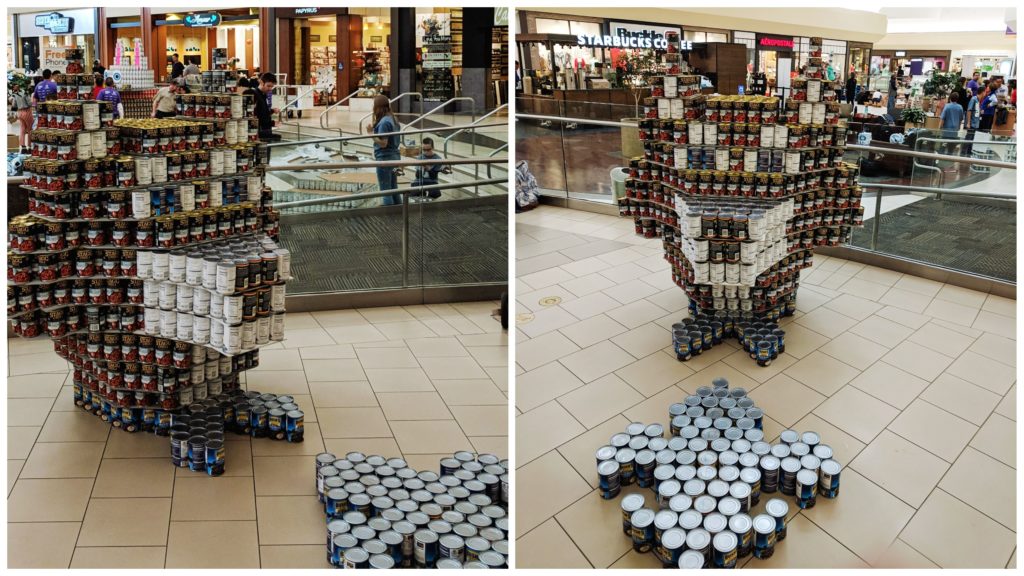 Team 6: Northern Nevada Math Club | Apple Pi
Apple Pi, of course, and that's what we've built!  Pi, commonly thought of as 3.14, is the constant found when the circumference of a circle is divided by the diameter.  It is incredibly useful in architecture and engineering.  We love Pi!  Why?  Because Pi is a never-ending number with over 2.6 trillion digits known but, interestingly, when trying to calculate the circumference of a 25-billion-mile diameter circle, using only 15 digits results in an error of only 1.5 inches!  How crazy is that?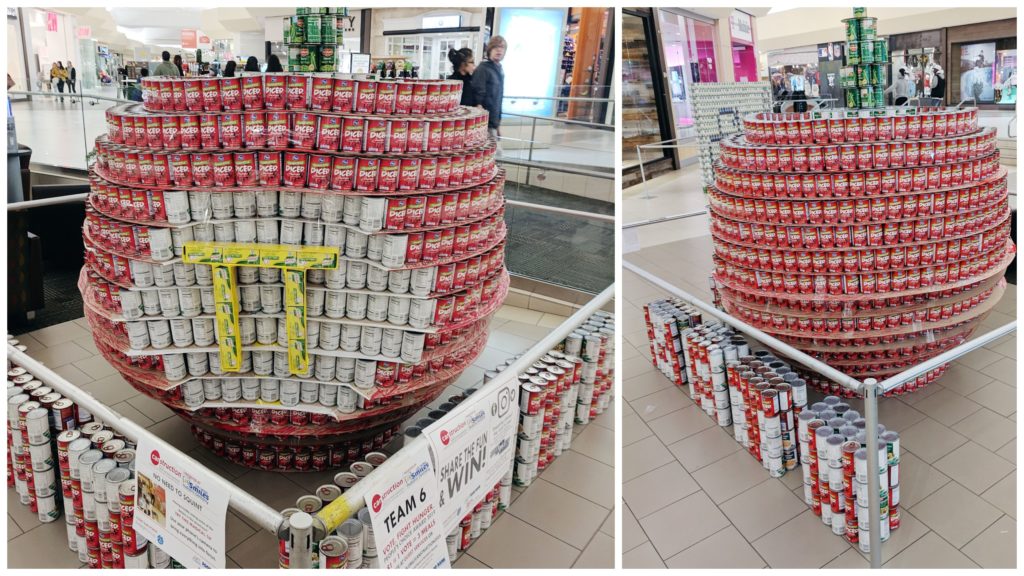 Team 7: FBNN Board of Directors | Healthy Food. Every Person. Every Day.
This structure depicts the Food Bank of Northern Nevada logo…a truck loaded with nutritious food.  FBNN trucks distribute to a network of 140+ partner agencies in a 90,000 square mile service area throughout northern Nevada and the eastern slope of the Sierra in California.  We serve over 92,000 people each month, half of whom are children and seniors.
Children not getting proper nutrition have serious additional problems that affect their lives. Children who are hungry are sick more often, struggle in school, and children under 5 can have developmental delays that stay with them throughout their lives.
A senior living at the poverty level has a monthly income of $950 or less. People who have worked their entire lives are struggling to put food on the table.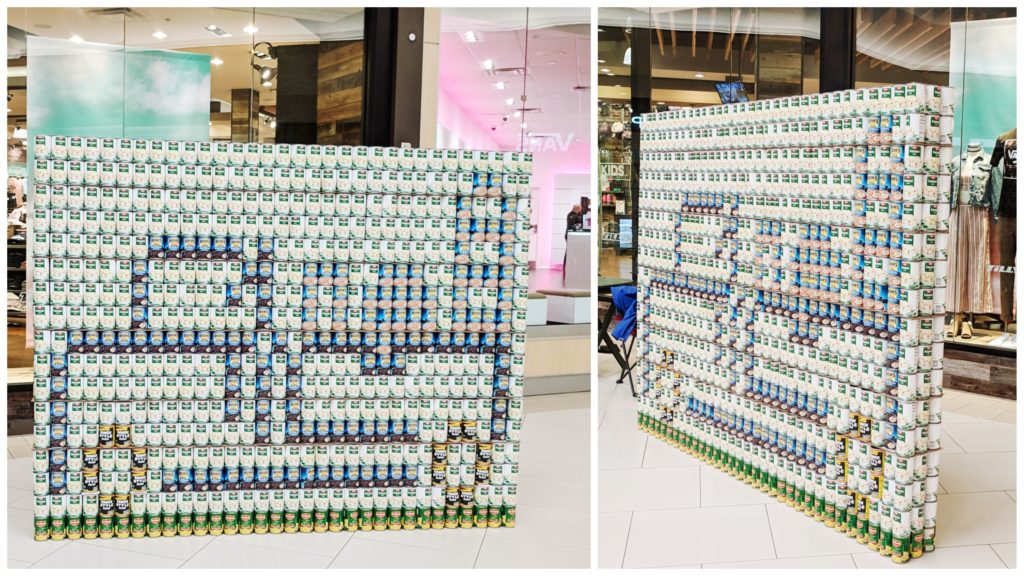 Team 8: FBNN Staff Members | YOU are the Hunger Hero!
It takes a whole community to fight hunger, and those who band together and rise up to make a difference are the HUNGER HEROES!  Hunger Heroes spend their valuable time fighting hunger as volunteers.  Hunger Heroes donate food and dollars to help fill the tummies of children who are missing nutritious meals (every $1 = 3 meals).  Hunger Heroes use their voice to fight the injustice that allows people to go without the food they need to live healthy lives.  Hunger Heroes are special people because they care about every man, woman and child in their community!  Wear your cape proudly, Hunger Heroes.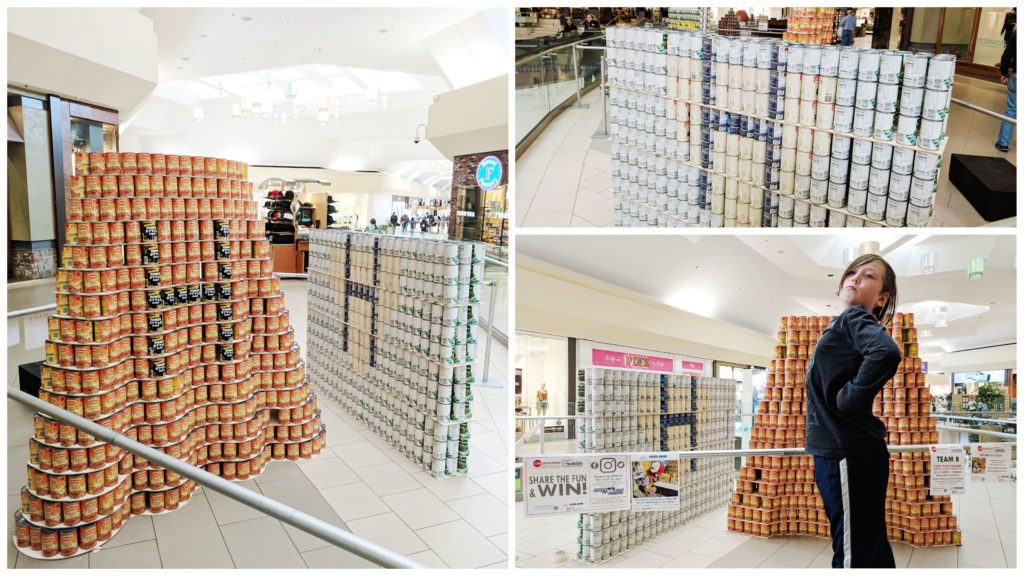 Team 9: Shaw Middle School | Burning World Hunger
Stove… a device that will burn world hunger.  Our genius minds set out for a solution to solve world hunger, thus, the stove was made!  With this stove, we will burn world hunger to a crisp.  The stove is white, the color of purity.  World starvation is a darkness that must be cleansed from the world, and our stove is made up of cans that have the potential to help solve this issue.  Join us on a crusade against world hunger.  Let the hunger burn away!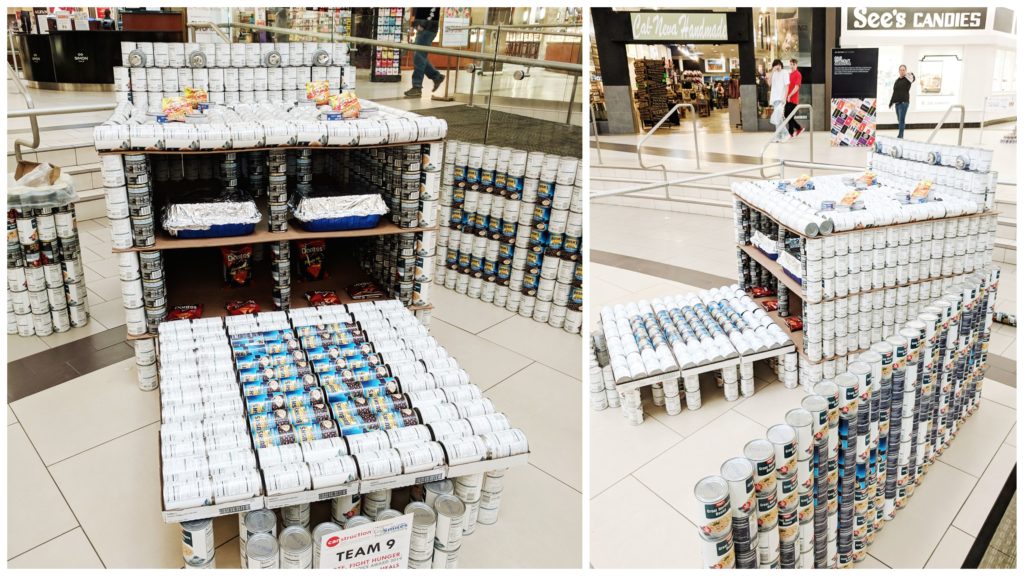 Team 10: Mountain View Montessori | Food Pyramid
We've created a gravity defying balanced cube! Hold your breath as you take in this daredevil structure made from chicken noodle soup and a variety of canned potatoes. The cans were chosen for their vibrant white and blue colors, and are arranged in dazzling stripes.
The "Food Pyramid" is a pyramid of canned food, that balances a cube on its apex. The "Food Pyramid" was designed to defy all that was thought possible of can structures. The food was chosen to provide a nice meal, and extensive options for whoever obtains the food. Let's fight hunger!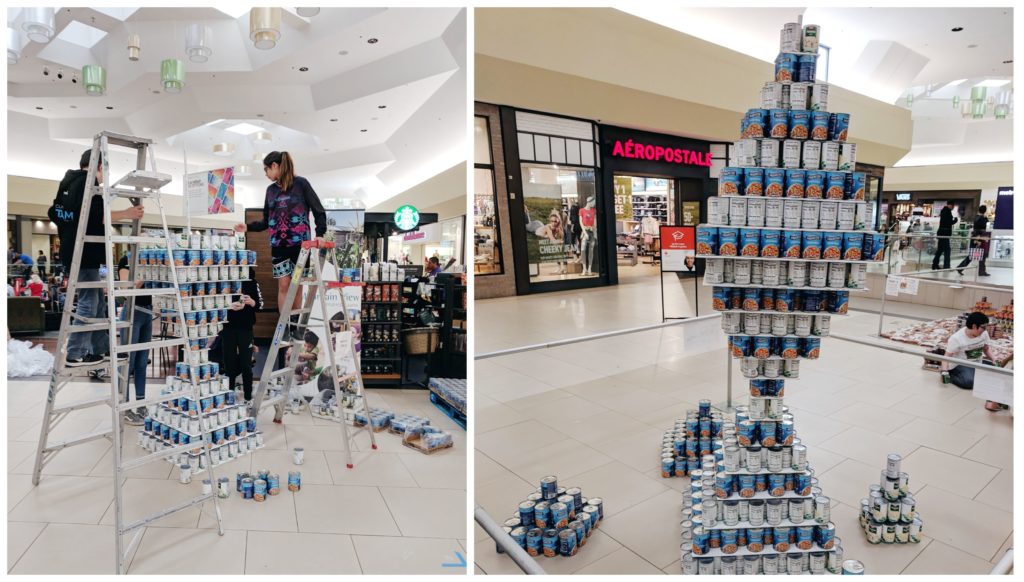 Team 11: Hug High School | Agent H
We have created Perry the Platypus, a "suave, semi-aquatic personification of unstoppable dynamic fury."   He is an iconic symbol for a fighter against evil.  In this mission, Perry has a new nemesis, Hunger.  This nemesis may be a tough one to beat, but he is fierce, cunning, and good with a serving platter.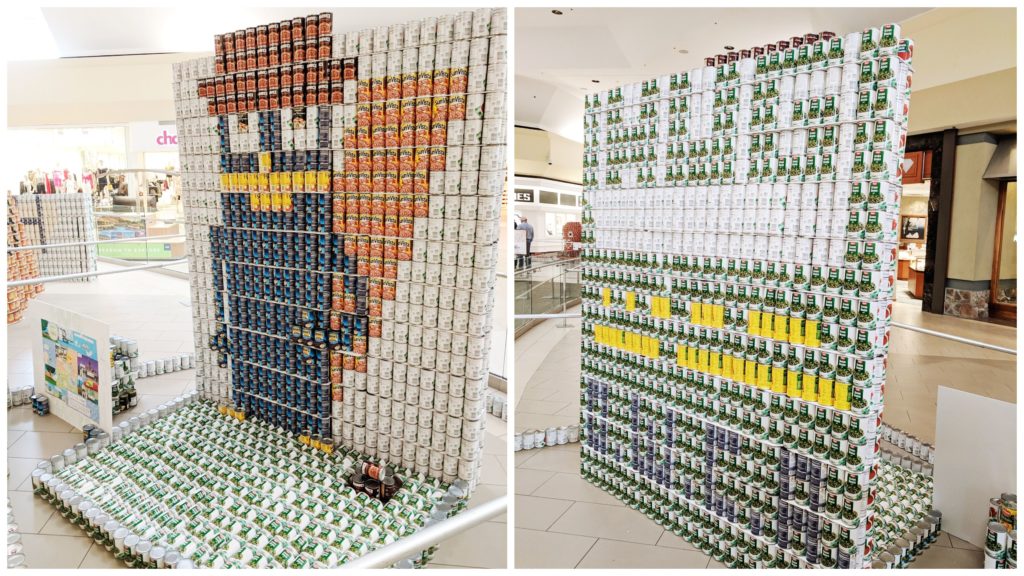 Team 12: United Construction | Making Hunger a Thing of the Past
The Pyramids and Sphinx of Giza symbolize a time when the few had everything they needed, and the many struggled to make ends meet. This is not to be a commentary on our society today.  However, many people still struggle to feed themselves and as a community we need to do something to help. The diversity of the food choices used in the forms of the Pyramids and Sphinx represent the diversity of the struggles people face every day. We hope that through the continued generosity of many people we will eventually "Make hunger a thing of the past."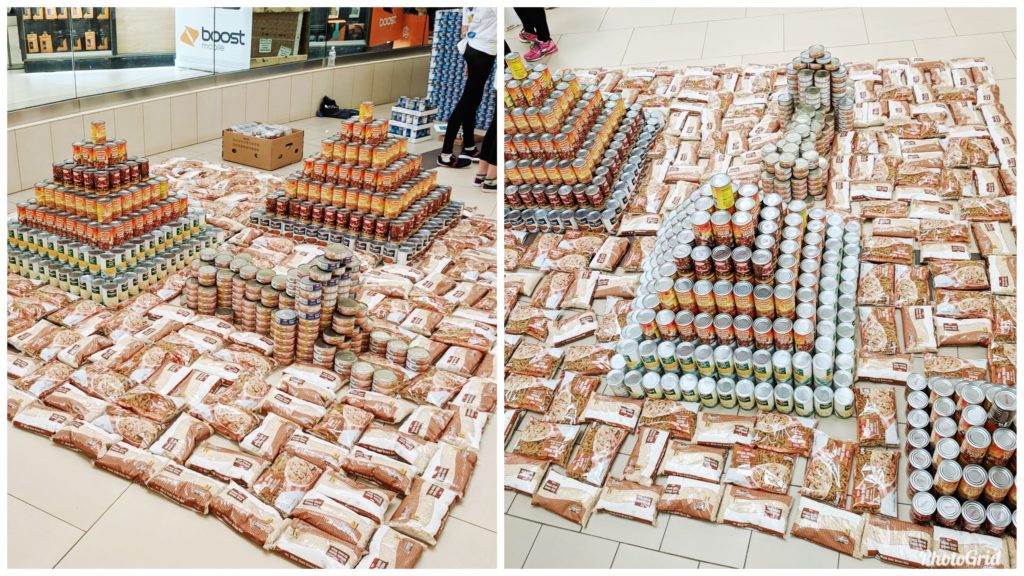 ---


CANstruction is organized by American Institute of Architects of Northern Nevada and made possible by presenting sponsor Growing Smiles Pediatric Dentistry and Student Teams Sponsor, Ardagh Group.  Additional CANstruction sponsors include John Anderson Construction, Basalite – Sparks, and Fred & Janice Graham.  CANstruction is also supported by Meadowood Mall, KTVN Channel 2, WinCo Foods, Freeman, Cooks Photography, Digiprint, Nevada Blue, Silver and Blue Outfitters.