Explore the Food Bank and Partner Distributions Locator and Calendar for all food resources available to help you meet your food needs.

PLEASE NOTE: Food distributions are not held at the Food Bank's warehouse. If you are in need of food assistance, we ask that you review the resources listed here or call with questions about locations and schedules for distributions.  We may not be able to accommodate requests for food assistance from those who arrive at the Food Bank warehouse.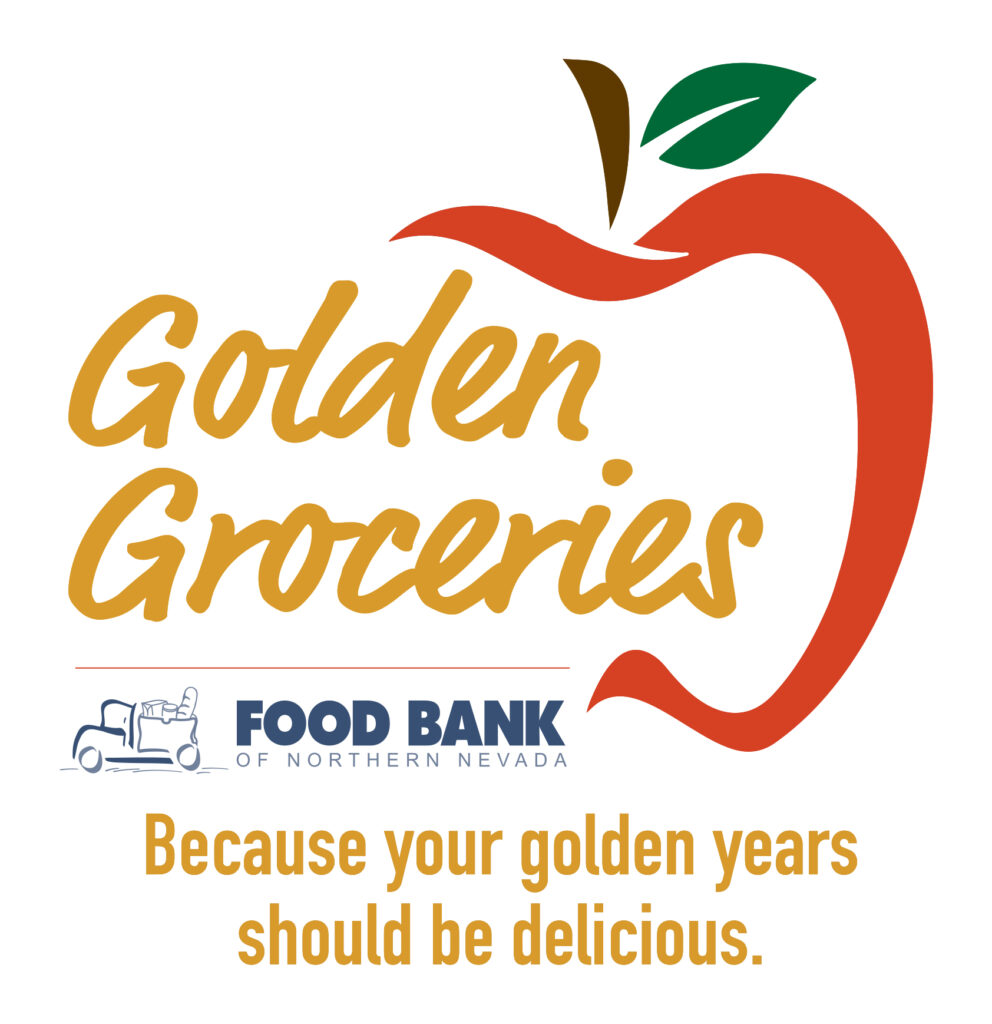 Golden Groceries Pantries
The Food Bank is working closely with our partner food pantries to establish food pantry locations and hours focused exclusively on serving our senior clients.  We're excited to see this program grow over the next several months.
Partner pantries currently offering senior-only hours are:
Sparks Christian Fellowship – 510 Greenbrae Dr, Sparks| Every Wednesday 9:00-10:00am
Center of Influence – 1095 E Taylor St, Reno | Every Thursday 10:00-11:00am
St. Francis of Assisi – 160 Hubbard Way Ste. F, Reno | Every Thursday 11:00-12:00pm
Salvation Army – 1560 Main Street, Susanville, CA | Monday through Friday 8:00-9:00am
Eureka Senior Center – 20 W. Gold St., Eureka | Second Tuesday of the month from 1-2:30 pm
Senior Nutrition & Wellness (Formerly CSFP)
Through the Senior Nutrition and Wellness program (formerly Commodity Supplemental Food Program/CSFP), the Food Bank of Northern Nevada provides a monthly box of nutritious food to low-income seniors 60 years and over. Boxes are distributed at more than 40 locations across Reno, Sparks, and rural northern Nevada.  Program participants are provided with a box of supplemental food items, which may include canned meat; vegetables; fruit; cereal, pasta, rice, or potatoes; evaporated or dry milk; dry beans or peanut butter; and American cheese each month. View the Nutrition in the Commodity Supplemental Food Program Food Package flyer for nutrition information and tips.
Seniors who do not meet the income guidelines set forth for CSFP may attend distributions to receive a similar box of pantry staples through the Food Bank's Senior Box program.  Guests visiting the CSFP/Senior Box distributions are also able to access fresh fruits and vegetables while picking up their monthly box.
View the Senior Nutrition & Wellness (formerly CSFP) Distribution Schedule: 
Washoe County: June 2023
Rural Counties: June 2023
Senior Nutrition & Wellness (CSFP) Eligibility:
Participants must meet CSFP income requirements (

View the 2023 Income Eligibility Guidelines

)
Participants must be at least 60 years of age
Eligible clients are required to provide monthly gross income, proof of residency in the state of NV, and a photo ID
The Senior Nutrition & Wellness Program (CSFP) is a program of the USDA and is administered by the Nevada State Department of Administration, Purchasing Division; Food Distribution Program.  The Food Bank of Northern Nevada is an equal opportunity employer and provider.  Click here to view the complete non-discrimination statement.
For more information on either of these programs, or to inquire about whether you may qualify, please contact Taylor Cerny at (775) 331-3663 ext 158.
Non-Citizens & USDA Food and Nutrition Service (FNS) Programs
Non-citizens and their family members may be eligible to participate in several programs operated by the Food and Nutrition Service, including CSFP. Applying for or receiving benefits DOES NOT make someone a "public charge."  Visit the USDA's Non-Citizen Communities webpage for more details.
Produce on Wheels
The Food Bank's Produce on Wheels program focuses on providing access to healthy, nutritious foods that can often be out of reach when living on a fixed income.  Produce on Wheels delivers fresh produce to clients at senior living communities and senior centers across northern Nevada.  During each distribution, seniors are provided with small, manageable quanitities of a variety of fresh fruits and vegetables.  Clients are welcome and encouraged to attend both distributions held at their assigned site each month.
View the Produce on Wheels Schedule:
Washoe County: June 2023
Rural Counties: June 2023
For more information on Produce on Wheels, please contact Kristen Harris at (775) 331-3663 ext 142.
Eligibility:
Participants must be at least 60 years of age
Must have a valid ID and be willing to complete a brief Intake Form and Survey
There are NO income restrictions for this program.
SENIORS EATING WELL Nutrition Classes
Seniors Eating Well is a pop-up class or series of classes offered by the Food Bank of Northern Nevada that aims to improve the health, nutrition knowledge and behaviors of older adults. It focuses specifically on reducing sodium intake, increasing healthy fats, healthy snacking, preparing fruits, vegetables & whole grains, reading nutrition labels, and physical activity.
Help with snap
The Supplemental Nutrition Assistance Program (SNAP/formerly food stamps) is an important program for struggling seniors and others .  The Food Bank of Northern Nevada offers SNAP Outreach to help connect eligible clients to these vital benefits.  Our team is available to answer questions regarding eligibility and can even assit with the application process.  Visit the SNAP Help page for more information and to view the current schedule for our Snap Outreach team.