AmeriStamp Expo, the nation's second largest postage stamp and postal history show, will take place March 3–5 in the Reno-Sparks Convention Center at 4590 South Virginia Street, Reno, Nevada. Show hours are 10 a.m. to 6 p.m. on Friday and Saturday, and 10 a.m. to 4 p.m. on Sunday. Admission is free and open to the public. Details are available on the show website: www.stamps.org/StampExpo.
Postal historians as well stamp collectors, dealers, artisans, and the general public can learn about stamps and postal history, buy and sell stamps, and have stamp collections evaluated. Displays include letter carriers' museum artifacts, an historic postal vehicle, an historic post office window, and a few of America's rarest postal items — including the earliest known U.S. Presidential "Free Frank" from 1789. More than 130 private collections of stamps, postal history, and philatelic material will be exhibited.
Among the most popular reasons to attend the Expo is the "Stamps In Your Attic" program, a free service to identify and evaluate stamps and postal history. The public is encouraged to bring along inherited collections of stamps or old family correspondence to receive input as to their uniqueness and care.
Youth can learn about stamp collecting through microscopes, design their own stamps, fill a stamp passport, play games, and pick up items for their collections in the Youth Area — all for free. Adults interested in learning more about the hobby can attend free Beginning Collectors seminars and other workshops.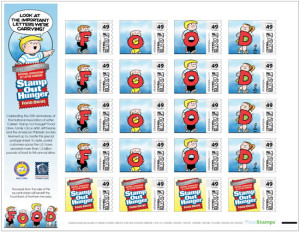 Friday, March 3, ceremonies will be held at 11 a.m. and 1 p.m., respectively, for the new Barn Swallow Stamped Envelope and Flora stamps being issued by the United States Postal Service® and Marshall Islands Postal Service, respectively. Saturday, March 4, a special ceremony will be held at 11:00 a.m. to celebrate the national kick-off to the 25th anniversary National Association of Letter Carriers' "Stamp Out Hunger®" Food Drive. Artist Jeff Keane of the Family Circus comic strip will help dedicate a personalized postage souvenir sheet featuring the iconic campaign artwork, printed by PhotoStamps.com. Autograph sessions will follow each ceremony. Proceeds from postage sheet sales will benefit the Food Bank of Northern Nevada, who will also have a booth at the show to accept contributions and donations of canned goods.
AmeriStamp Expo 2017 is hosted by the American Philatelic Society, in partnership with the National Association of Letter Carriers and the United States Postal Service. Event details are available at www.stamps.org/StampExpo. For details, call (814) 933-3803 ext. 217 or email stampshow@stamps.org.