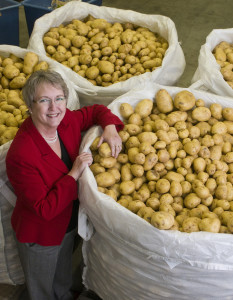 Food Bank friends,
I have some news that I'm excited to share with you today.  I will be moving to another role within the Food Bank, one that will allow me to focus my 30 years of experience on one of my passions — the second part of the Food Bank mission – solving hunger for tomorrow through community partnership.
I am not leaving the Food Bank… I will still be actively involved, but just not as President and CEO.
I am very excited about this opportunity, and the board is supportive of my desire to move into this role to address long-term hunger solutions for our community. I am thrilled to embark on what I consider the future of food banking.  Community engagement to solve hunger is also a key focus of Truckee Meadows Healthy Communities, which has been an important partner of ours since its creation. I will be working closely with them in my new role.
We are very proud of the work we've done already on long term solutions… such as the SNAP outreach program, Bridges to a Thriving Nevada and bringing more resources to children and families through school-based food pantries. We are one of only 5 food banks in America doing cutting edge work with Feeding America to add a long-term dimension to the work of food banks across the nation.
That work has occurred because of the support and commitment of our many community partners. My three decades with the Food Bank have given me the best life I could ever have had, and I look forward to continuing our partnership, and sharing this "long view" work with you.
The Food Bank's commitment to working on long-term hunger solutions while continuing the amazing work we do every day is wide and deep. We have a lot of work to do, from our day-to-day efforts to get food in people's hands… to solving hunger on a deeper level. The Food Bank needs your help… and knows we can count on you to continue to support our efforts to help people in need in our community.
The Board will be undertaking a national search for a new President/CEO and hopes to have someone in place by June. If you know someone who is interested, please refer him or her to Carolyn DeLeon (cdeleon@fbnn.org), or have that person check the Careers page here on our web site for more information.
---

Cherie Jamason, President and CEO of the Food Bank of Northern Nevada, joined the organization 28 years ago. Her leadership has taken a small grass-roots food assistance program serving Washoe County, to a nationally recognized anti-hunger organization, providing services throughout the state of Nevada and a portion of eastern California. Cherie has tirelessly served this cause locally and nationally on many fronts and describes her work as the "best life she could have chosen."