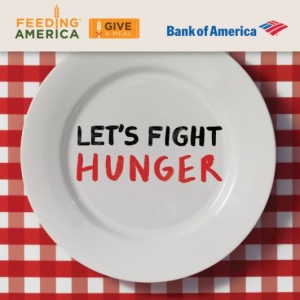 I wish that I could put money in my wallet and it would triple.   Just imagine what I could do with that kind of magic.  That is exactly what Bank of America is doing to your donation right now.  It's the amazing Give a Meal program and it is back through the end of December 2015.  Right now if you give online through Bank of America Give A Meal, they will donate 2 dollars for every $1 you give.  This is the not the first year that they have done this and even we can hardly believe it.  They are tripling the donation?  That can't be right.  IT'S RIGHT.
There are limits to such amazing generosity but it is up to $1.5 million nationwide!  Last year, the Food Bank of Northern Nevada received $85,000 from their generous donors and the Bank of America match for this program and it was so wonderful.  To have your gift help locally, be sure to designate "your local food bank" for the location.
People love to triple their impact and why wouldn't they?  I wish I could work-out for a half hour and it was really an hour and a half.  I wish I could eat 2 servings of health vegetables that really counted as 6 servings.  I wish I could buy $25 worth of groceries and $75 worth would show up in my cart.
And that is exactly what you are doing for those who are hungry.  You're offering triple the food, hope and the peace of mind that comes with knowing where your next meal will come from.
On their behalf, we thank you, triple.
---

Jocelyn Lantrip is the Director of Marketing & Communications for the Food Bank of Northern Nevada and has worked for the organization for six years.  She loves her job as a hunger fighter and is very passionate about families getting the food they need.  She also loves to talk about the Food Bank and give tours of the warehouse facility. Contact her anytime with questions.