That one in five of Nevada's children don't know where their next meal is coming from.
The Food Bank helps an average of 106,000 people each month.
More than 30% of the food we distribute is actually fresh produce.
About 12,000 people are helped every month through our Mobile Harvest program.
Read more from our 2014 Hunger in America Study findings.
For more information, read the Nevada Poverty Report 2015.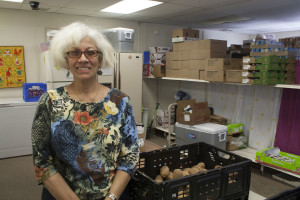 Your support helps people like Mervat. Mervat is a senior and with her husband, they survive on an income of $15,000 per year. With their monthly expenses, it just isn't enough to make ends meet. Her husband was an engineer and his company closed down. After they moved here to start over, he was diagnosed with Parkinson's disease and is now not able to work. Mervat is so very thankful for the food that she receives at the pantry.
[callToActionCopy] => Read More [callToActionUrl] => https://www.fbnn.org/get-involved/learn-about-hunger/ [callToActionTarget] => [hideInlineSizes] => [tag] => [showFunction] => )
Support, protect, and increase funding for essential hunger relief programs at all levels of government.
Partner with Local, State and Federal Agencies to identify opportunities to decrease food insecurity.
Build a coalition of public officials and community anti-hunger advocates.
2022 Advocacy Priorities
Advocacy Accomplishments
Take Action With Us
Ready to get involved?  Sign up for the Advocacy in Action Newsletter to stay up-to-date with the Food Bank's advocacy work, including calls to action and other steps you can take to support our neighbors in need.

---

For more information on how you can get involved, contact Shane Piccinini, Government Relations.
Political Endorsement Disclaimer: While the Food Bank of Northern Nevada may issue position papers on information related to political and policy issues, the Food Bank of Northern Nevada does not endorse any political parties or candidates for public office.  Any political statements or endorsements made by individuals or organizations adding the Food Bank of Northern Nevada's information to their website does not represent a political endorsement, the position, or policy of the Food Bank of Northern Nevada. Any candidate for public office claiming an endorsement from the Food Bank of Northern Nevada, its departments or offices is doing so without permission.
[callToActionCopy] => Read More [callToActionUrl] => https://www.fbnn.org/get-involved/advocate/ [callToActionTarget] => [hideInlineSizes] => [tag] => [showFunction] => )
Be recognized by the Internal Revenue Service as a 501(c)(3) not-for-profit, charitable organization, or be affiliated with a 501(c)(3) umbrella organization. Limited exceptions may be made if your church meets the spirit of the criteria used by the IRS to define a church
Offer services directly to the ill, needy, or children (under 18 years) free of charge and with no requirement to attend any kind of service
Provide an emergency food program, in the form of a food pantry, soup kitchen or shelter.
Have a facility able to safely handle and distribute food.
Have a record-keeping system that fulfills the Food Bank's reporting requirements
Obtain a food-handlers certification or license
We recommended that new agencies operate a food program for at least six months prior to applying
Running a food program is a big responsibility. It requires a major commitment of time, funds and energy.
Once you meet all of the above requirements, becoming a Partner Agency can be very easy. The Food Bank of Northern Nevada accepts applications at any time, however during October-January the application process can take longer than the average 4-6 week time frame.
To get started:
Email Jenny Yeager and include organization name, contact information, mailing and physical address, and hours of operation. (Your service area will be reviewed for unmet needs. If area is underserved, an application packet will be mailed.)
Mail completed request for partnership to:
Food Bank of Northern Nevada – Attn: Agency Relations (a completed packet must be approved prior to the first site visit)
First site visit will include onsite training
[callToActionCopy] => Read More [callToActionUrl] => https://www.fbnn.org/get-involved/become-a-partner/ [callToActionTarget] => [hideInlineSizes] => [tag] => [showFunction] => )